George H.W. Bush: Homophobe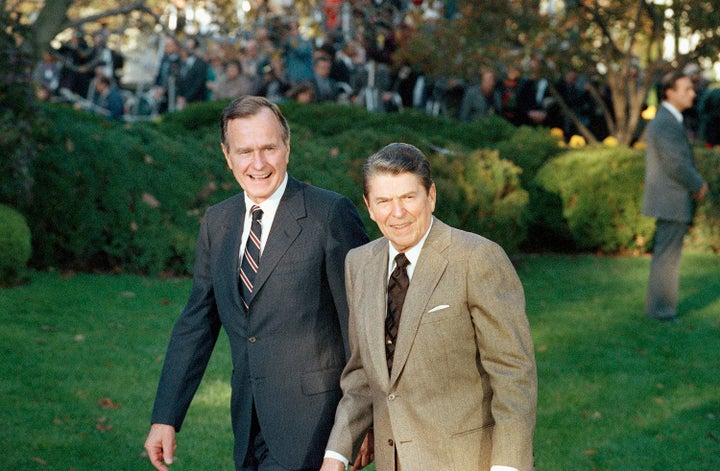 From the Huffington Post:
by Michelangelo Signorile
...Bush, in the end, bowed to the same extremists Reagan did when it came to AIDS and LGBTQ rights. As The Washington Post noted, Bush allowed evangelicals to mature as a movement within the GOP after Reagan brought them in rather than pushing back...
Bush's administration still dragged its feet on drug treatment and refused to address prevention to the most affected community, gay and bisexual men, which it could have done by simply promoting and funding critical safer sex programs and condom distribution.
Infamously, Bush had said in a television interview that if he had a grandchild who was gay he would "love" the child but would tell the child he wasn't normal. And like Reagan, he stocked his Cabinet with anti-gay zealots.
Health Secretary Louis Sullivan, also protested by ACT UP for his terrible response to HIV, joined forces with evangelical leaders to cover up a government-funded study on teen suicide that found LGBTQ teens were at much higher risk.
Bush eventually joined anti-gay attacks on the National Endowment for the Arts that had originated with right-wing members of Congress over the agency's funding of queer artists, and put in place an acting chairwoman who defunded gay and lesbian film festivals.
That same year, Bush signed a bill to stop the Washington, D.C., Council, a body that Congress can ultimately overrule, from offering health care benefits to domestic partners of gay and lesbian city workers.
And after Buchanan, who Bush offered a prime slot at the Republican National Convention in Houston, gave his infamous "culture war" speech, declaring there is a "religious war" in this country, and attacking, among others, the "militant homosexual rights movement," Bush refused to denounce the speech and instead publicly denounced same-sex marriage, which was nowhere near a reality at the time. This prompted even the Log Cabin Republicans, the largest gay GOP group, to refuse to endorse him.
Meanwhile, the GOP platform that year condemned anti-discrimination statutes protecting gays and lesbians, and, responding to Democratic nominee Bill Clinton's campaign promise to end the ban on gays serving in the military, adopted a plank banning gay service...
Labels: Hate/Terrorism, History, The Repugnant Party