District 5 Diary
Rob Anderson's commentary on San Francisco politics from District 5
Friday, February 16, 2018
Golden State Warriors: Crybabies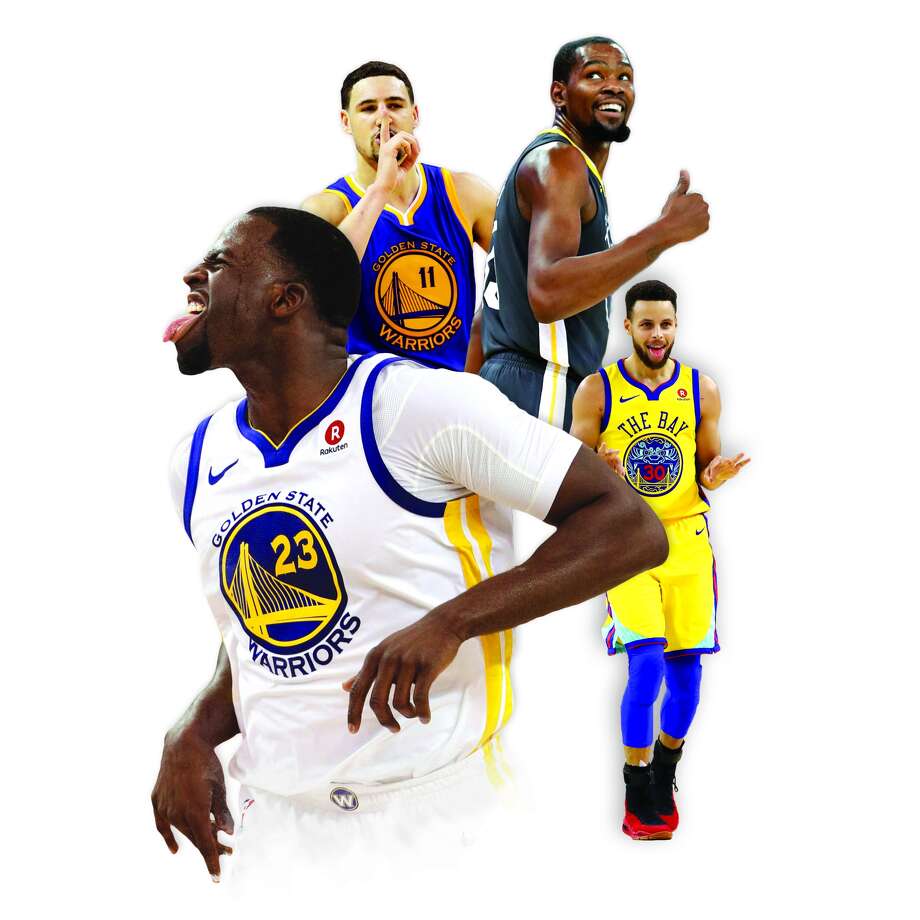 Crybabies. You would think that the defending league champions, hitting midseason with the league's second-best record (a half-game behind Houston), would not be the poster team for bitching at refs. You would be so, so wrong.
The Warriors are struggling, relatively speaking, leaking a little oil, including even a ghastly recent two-game losing streak. Still, why all the whining? The Warriors lead the league in technical fouls with 41. Green is the league's most-T'd player, 14. Durant is tied for second with 11, and leads in ejections with four.
Green, in some ways the ultimate team player, can't manage to put his team ahead of his need to whine about the same horrible calls experienced by every player in the league.
Curry got tossed for flinging his pacifier (actually his mouth-guard) in the direction of a ref. The poet-like Shaun Livingston literally bumped heads with a ref.
The perpetual disconnect between NBA refs and players has risen to a crisis level this season, in no small part because the best team can't shut its yap and play ball.
As a Warriors fan, I find it embarrassing. Draymond Green is the worst offender. He seems to have some mental health/anger issues that he and the team should address.
Speaking of embarrassment and the Warriors: Those mystifying Town jerseys are supposedly a tribute to Oakland, a "town" they are planning to dump as soon as their new traffic-snarling stadium is finished here in SF. What crap! And an insult to Oakland, as the billionaire owners of the Warriors evidently think that the brand requires a classier address than Oakland/Nowheresville:
Warriors guard Stephen Curry, who has been with the franchise since 2009, said he quickly learned about "The Town" and the history behind it. The former Oakland resident is excited to wear "The Town" jerseys at Oracle Arena. "It's amazing for the organization to recognize 'The Town' and the city that supported them through the dog days and some tough times and bright spots, obviously," Curry said. "Knowing we are soon moving to San Francisco, it's a silent effort to show the loyalty to the city and the history as well. There have been a lot of great days here. Hopefully, the fans from the East Bay and Oakland can rally around that."
Some "loyalty"! And some "amazing" bullshit from a great basketball player who should just shut up and play ball.
See also The Warriors' Empty Gesture.
Kissing the boss's ass is a terrible look for Curry and sets a bad example for the kids who idolize him:
Labels: SF Chronicle, Sports, Warriors Stadium
posted by Rob Anderson @ 12:18 PM 0 comments


We are grieving with Parkland. But we are not powerless. Caring for our kids is our first job. And until we can honestly say that we're doing enough to keep them safe from harm, including long overdue, common-sense gun safety laws that most Americans want, then we have to change.

— Barack Obama (@BarackObama) February 15, 2018
Labels: Atheism and Religion, Punks with Guns, The Repugnant Party, Trump
posted by Rob Anderson @ 11:40 AM 0 comments


Previous Posts
Dec 12, 2004
Dec 21, 2004
Dec 23, 2004
Dec 29, 2004
Dec 30, 2004
Jan 1, 2005
Jan 4, 2005
Jan 6, 2005
Jan 17, 2005
Jan 21, 2005
Jan 22, 2005
Jan 23, 2005
Jan 24, 2005
Jan 25, 2005
Jan 26, 2005
Jan 28, 2005
Jan 30, 2005
Jan 31, 2005
Feb 1, 2005
Feb 4, 2005
Feb 6, 2005
Feb 9, 2005
Feb 13, 2005
Feb 14, 2005
Feb 15, 2005
Feb 16, 2005
Feb 18, 2005
Feb 21, 2005
Feb 22, 2005
Feb 28, 2005
Mar 6, 2005
Mar 7, 2005
Mar 12, 2005
Mar 19, 2005
Mar 20, 2005
Mar 25, 2005
Mar 26, 2005
Mar 29, 2005
Apr 2, 2005
Apr 3, 2005
Apr 5, 2005
Apr 8, 2005
Apr 11, 2005
Apr 12, 2005
Apr 18, 2005
Apr 20, 2005
Apr 21, 2005
Apr 23, 2005
Apr 24, 2005
Apr 27, 2005
Apr 28, 2005
Apr 29, 2005
May 4, 2005
May 5, 2005
May 7, 2005
May 10, 2005
May 15, 2005
May 18, 2005
May 19, 2005
May 21, 2005
May 23, 2005
May 25, 2005
May 27, 2005
May 29, 2005
May 31, 2005
Jun 2, 2005
Jun 4, 2005
Jun 6, 2005
Jun 9, 2005
Jun 10, 2005
Jun 13, 2005
Jun 16, 2005
Jun 21, 2005
Jun 22, 2005
Jun 23, 2005
Jun 26, 2005
Jun 27, 2005
Jul 2, 2005
Jul 3, 2005
Jul 4, 2005
Jul 7, 2005
Jul 8, 2005
Jul 13, 2005
Jul 18, 2005
Jul 19, 2005
Jul 21, 2005
Jul 22, 2005
Jul 25, 2005
Jul 27, 2005
Jul 31, 2005
Aug 1, 2005
Aug 7, 2005
Aug 9, 2005
Aug 10, 2005
Aug 11, 2005
Aug 15, 2005
Aug 17, 2005
Aug 21, 2005
Aug 28, 2005
Aug 30, 2005
Aug 31, 2005
Sep 1, 2005
Sep 2, 2005
Sep 4, 2005
Sep 9, 2005
Sep 10, 2005
Sep 11, 2005
Sep 14, 2005
Sep 16, 2005
Sep 17, 2005
Sep 18, 2005
Sep 21, 2005
Sep 30, 2005
Oct 1, 2005
Oct 2, 2005
Oct 5, 2005
Oct 8, 2005
Oct 10, 2005
Oct 11, 2005
Oct 14, 2005
Oct 17, 2005
Oct 20, 2005
Oct 21, 2005
Oct 26, 2005
Oct 27, 2005
Oct 28, 2005
Oct 31, 2005
Nov 2, 2005
Nov 8, 2005
Nov 11, 2005
Nov 12, 2005
Nov 15, 2005
Nov 16, 2005
Nov 18, 2005
Nov 19, 2005
Nov 20, 2005
Nov 22, 2005
Nov 28, 2005
Nov 30, 2005
Dec 7, 2005
Dec 8, 2005
Dec 12, 2005
Dec 13, 2005
Dec 15, 2005
Dec 17, 2005
Dec 18, 2005
Jan 3, 2006
Jan 5, 2006
Jan 6, 2006
Jan 7, 2006
Jan 8, 2006
Jan 10, 2006
Jan 12, 2006
Jan 15, 2006
Jan 17, 2006
Jan 20, 2006
Jan 21, 2006
Jan 22, 2006
Jan 27, 2006
Jan 30, 2006
Feb 8, 2006
Feb 10, 2006
Feb 11, 2006
Feb 15, 2006
Feb 16, 2006
Feb 19, 2006
Feb 21, 2006
Feb 22, 2006
Feb 24, 2006
Feb 27, 2006
Feb 28, 2006
Mar 2, 2006
Mar 4, 2006
Mar 6, 2006
Mar 8, 2006
Mar 10, 2006
Mar 15, 2006
Mar 23, 2006
Mar 24, 2006
Mar 25, 2006
Mar 27, 2006
Mar 28, 2006
Apr 3, 2006
Apr 7, 2006
Apr 11, 2006
Apr 12, 2006
Apr 14, 2006
Apr 23, 2006
Apr 30, 2006
May 3, 2006
May 8, 2006
May 10, 2006
May 25, 2006
May 26, 2006
May 27, 2006
May 28, 2006
May 29, 2006
Jun 2, 2006
Jun 20, 2006
Jun 23, 2006
Jun 26, 2006
Jun 27, 2006
Jun 28, 2006
Jun 29, 2006
Jul 3, 2006
Jul 4, 2006
Jul 5, 2006
Jul 6, 2006
Jul 7, 2006
Jul 10, 2006
Jul 11, 2006
Jul 12, 2006
Jul 13, 2006
Jul 14, 2006
Jul 15, 2006
Jul 16, 2006
Jul 19, 2006
Jul 21, 2006
Jul 24, 2006
Jul 25, 2006
Jul 26, 2006
Jul 31, 2006
Aug 2, 2006
Aug 3, 2006
Aug 5, 2006
Aug 7, 2006
Aug 8, 2006
Aug 9, 2006
Aug 13, 2006
Aug 14, 2006
Aug 15, 2006
Aug 17, 2006
Aug 21, 2006
Aug 22, 2006
Aug 23, 2006
Aug 28, 2006
Sep 2, 2006
Sep 4, 2006
Sep 5, 2006
Sep 9, 2006
Sep 10, 2006
Sep 11, 2006
Sep 12, 2006
Sep 13, 2006
Sep 14, 2006
Sep 16, 2006
Sep 18, 2006
Sep 19, 2006
Sep 20, 2006
Sep 23, 2006
Sep 25, 2006
Sep 27, 2006
Sep 28, 2006
Oct 16, 2006
Oct 17, 2006
Oct 18, 2006
Oct 19, 2006
Oct 20, 2006
Oct 25, 2006
Oct 26, 2006
Oct 27, 2006
Oct 30, 2006
Oct 31, 2006
Nov 2, 2006
Nov 3, 2006
Nov 4, 2006
Nov 9, 2006
Nov 10, 2006
Nov 11, 2006
Nov 12, 2006
Nov 13, 2006
Nov 15, 2006
Nov 16, 2006
Nov 17, 2006
Nov 19, 2006
Nov 20, 2006
Nov 26, 2006
Dec 1, 2006
Dec 5, 2006
Dec 8, 2006
Dec 9, 2006
Dec 11, 2006
Dec 12, 2006
Dec 29, 2006
Jan 3, 2007
Jan 5, 2007
Jan 7, 2007
Jan 9, 2007
Jan 17, 2007
Jan 19, 2007
Jan 21, 2007
Jan 26, 2007
Jan 27, 2007
Jan 28, 2007
Jan 29, 2007
Feb 1, 2007
Feb 3, 2007
Feb 6, 2007
Feb 7, 2007
Feb 8, 2007
Feb 9, 2007
Feb 22, 2007
Feb 24, 2007
Mar 3, 2007
Mar 7, 2007
Mar 8, 2007
Mar 15, 2007
Mar 17, 2007
Mar 18, 2007
Mar 21, 2007
Mar 22, 2007
Mar 24, 2007
Mar 26, 2007
Mar 27, 2007
Mar 30, 2007
Apr 1, 2007
Apr 5, 2007
Apr 10, 2007
Apr 12, 2007
Apr 13, 2007
Apr 16, 2007
Apr 17, 2007
Apr 19, 2007
Apr 21, 2007
Apr 27, 2007
Apr 30, 2007
May 1, 2007
May 2, 2007
May 3, 2007
May 4, 2007
May 8, 2007
May 9, 2007
May 13, 2007
May 14, 2007
May 16, 2007
May 18, 2007
May 19, 2007
May 20, 2007
May 31, 2007
Jun 1, 2007
Jun 3, 2007
Jun 4, 2007
Jun 5, 2007
Jun 9, 2007
Jun 12, 2007
Jun 15, 2007
Jun 16, 2007
Jun 20, 2007
Jun 23, 2007
Jun 25, 2007
Jun 27, 2007
Jun 29, 2007
Jul 1, 2007
Jul 3, 2007
Jul 6, 2007
Jul 7, 2007
Jul 9, 2007
Jul 10, 2007
Jul 11, 2007
Jul 14, 2007
Jul 15, 2007
Jul 20, 2007
Jul 22, 2007
Jul 25, 2007
Jul 26, 2007
Jul 30, 2007
Jul 31, 2007
Aug 4, 2007
Aug 5, 2007
Aug 9, 2007
Aug 11, 2007
Aug 15, 2007
Aug 17, 2007
Aug 24, 2007
Aug 25, 2007
Aug 29, 2007
Aug 30, 2007
Aug 31, 2007
Sep 3, 2007
Sep 6, 2007
Sep 7, 2007
Sep 8, 2007
Sep 10, 2007
Sep 11, 2007
Sep 12, 2007
Sep 14, 2007
Sep 19, 2007
Sep 22, 2007
Sep 24, 2007
Sep 25, 2007
Sep 29, 2007
Oct 2, 2007
Oct 13, 2007
Oct 15, 2007
Oct 16, 2007
Oct 18, 2007
Oct 19, 2007
Oct 20, 2007
Oct 22, 2007
Oct 27, 2007
Oct 31, 2007
Nov 3, 2007
Nov 5, 2007
Nov 9, 2007
Nov 10, 2007
Nov 12, 2007
Nov 16, 2007
Nov 18, 2007
Nov 19, 2007
Nov 22, 2007
Nov 23, 2007
Nov 29, 2007
Dec 1, 2007
Dec 5, 2007
Dec 12, 2007
Dec 17, 2007
Dec 19, 2007
Dec 21, 2007
Dec 24, 2007
Dec 28, 2007
Dec 29, 2007
Dec 30, 2007
Jan 3, 2008
Jan 4, 2008
Jan 8, 2008
Jan 10, 2008
Jan 11, 2008
Jan 14, 2008
Jan 17, 2008
Jan 21, 2008
Jan 23, 2008
Jan 26, 2008
Jan 27, 2008
Jan 31, 2008
Feb 1, 2008
Feb 2, 2008
Feb 4, 2008
Feb 12, 2008
Feb 16, 2008
Feb 18, 2008
Feb 21, 2008
Feb 22, 2008
Feb 23, 2008
Feb 24, 2008
Feb 28, 2008
Mar 2, 2008
Mar 3, 2008
Mar 9, 2008
Mar 13, 2008
Mar 16, 2008
Mar 18, 2008
Mar 20, 2008
Mar 21, 2008
Mar 26, 2008
Mar 30, 2008
Mar 31, 2008
Apr 1, 2008
Apr 2, 2008
Apr 4, 2008
Apr 7, 2008
Apr 10, 2008
Apr 12, 2008
Apr 15, 2008
Apr 19, 2008
Apr 20, 2008
Apr 21, 2008
Apr 23, 2008
Apr 28, 2008
Apr 30, 2008
May 1, 2008
May 3, 2008
May 4, 2008
May 5, 2008
May 8, 2008
May 9, 2008
May 12, 2008
May 14, 2008
May 17, 2008
May 21, 2008
May 23, 2008
May 24, 2008
May 31, 2008
Jun 1, 2008
Jun 3, 2008
Jun 5, 2008
Jun 6, 2008
Jun 7, 2008
Jun 8, 2008
Jun 9, 2008
Jun 11, 2008
Jun 13, 2008
Jun 14, 2008
Jun 15, 2008
Jun 16, 2008
Jun 18, 2008
Jun 19, 2008
Jun 23, 2008
Jun 25, 2008
Jun 26, 2008
Jun 28, 2008
Jun 29, 2008
Jun 30, 2008
Jul 1, 2008
Jul 5, 2008
Jul 7, 2008
Jul 9, 2008
Jul 10, 2008
Jul 11, 2008
Jul 13, 2008
Jul 15, 2008
Jul 16, 2008
Jul 17, 2008
Jul 18, 2008
Jul 19, 2008
Jul 22, 2008
Jul 25, 2008
Jul 26, 2008
Jul 29, 2008
Aug 3, 2008
Aug 6, 2008
Aug 7, 2008
Aug 9, 2008
Aug 11, 2008
Aug 12, 2008
Aug 13, 2008
Aug 14, 2008
Aug 15, 2008
Aug 17, 2008
Aug 19, 2008
Aug 20, 2008
Aug 23, 2008
Aug 25, 2008
Aug 26, 2008
Aug 27, 2008
Aug 28, 2008
Aug 29, 2008
Aug 30, 2008
Aug 31, 2008
Sep 3, 2008
Sep 4, 2008
Sep 5, 2008
Sep 6, 2008
Sep 7, 2008
Sep 11, 2008
Sep 12, 2008
Sep 14, 2008
Sep 15, 2008
Sep 16, 2008
Sep 17, 2008
Sep 20, 2008
Sep 23, 2008
Sep 24, 2008
Sep 26, 2008
Sep 27, 2008
Sep 28, 2008
Sep 29, 2008
Oct 1, 2008
Oct 4, 2008
Oct 5, 2008
Oct 8, 2008
Oct 11, 2008
Oct 14, 2008
Oct 16, 2008
Oct 17, 2008
Oct 18, 2008
Oct 20, 2008
Oct 21, 2008
Oct 24, 2008
Oct 25, 2008
Oct 26, 2008
Oct 28, 2008
Oct 29, 2008
Oct 30, 2008
Oct 31, 2008
Nov 1, 2008
Nov 2, 2008
Nov 6, 2008
Nov 7, 2008
Nov 8, 2008
Nov 9, 2008
Nov 12, 2008
Nov 13, 2008
Nov 15, 2008
Nov 16, 2008
Nov 17, 2008
Nov 19, 2008
Nov 20, 2008
Nov 21, 2008
Nov 22, 2008
Nov 23, 2008
Nov 25, 2008
Nov 26, 2008
Nov 29, 2008
Dec 3, 2008
Dec 6, 2008
Dec 7, 2008
Dec 8, 2008
Dec 9, 2008
Dec 10, 2008
Dec 12, 2008
Dec 13, 2008
Dec 16, 2008
Dec 18, 2008
Dec 19, 2008
Dec 20, 2008
Dec 21, 2008
Dec 24, 2008
Dec 25, 2008
Dec 29, 2008
Dec 31, 2008
Jan 2, 2009
Jan 4, 2009
Jan 5, 2009
Jan 6, 2009
Jan 8, 2009
Jan 9, 2009
Jan 13, 2009
Jan 15, 2009
Jan 18, 2009
Jan 19, 2009
Jan 20, 2009
Jan 22, 2009
Jan 25, 2009
Jan 28, 2009
Jan 31, 2009
Feb 4, 2009
Feb 10, 2009
Feb 12, 2009
Feb 13, 2009
Feb 15, 2009
Feb 18, 2009
Feb 22, 2009
Feb 24, 2009
Feb 25, 2009
Mar 1, 2009
Mar 3, 2009
Mar 5, 2009
Mar 6, 2009
Mar 7, 2009
Mar 9, 2009
Mar 10, 2009
Mar 14, 2009
Mar 16, 2009
Mar 21, 2009
Mar 25, 2009
Mar 26, 2009
Mar 27, 2009
Mar 30, 2009
Mar 31, 2009
Apr 3, 2009
Apr 7, 2009
Apr 8, 2009
Apr 10, 2009
Apr 12, 2009
Apr 13, 2009
Apr 16, 2009
Apr 18, 2009
Apr 20, 2009
Apr 26, 2009
Apr 29, 2009
Apr 30, 2009
May 2, 2009
May 7, 2009
May 8, 2009
May 10, 2009
May 11, 2009
May 12, 2009
May 13, 2009
May 14, 2009
May 18, 2009
May 24, 2009
May 26, 2009
May 27, 2009
May 28, 2009
May 31, 2009
Jun 1, 2009
Jun 2, 2009
Jun 5, 2009
Jun 6, 2009
Jun 10, 2009
Jun 15, 2009
Jun 16, 2009
Jun 17, 2009
Jun 18, 2009
Jun 19, 2009
Jun 20, 2009
Jun 21, 2009
Jun 23, 2009
Jun 24, 2009
Jun 25, 2009
Jun 27, 2009
Jun 29, 2009
Jul 3, 2009
Jul 6, 2009
Jul 9, 2009
Jul 11, 2009
Jul 13, 2009
Jul 20, 2009
Jul 21, 2009
Jul 23, 2009
Jul 29, 2009
Jul 30, 2009
Jul 31, 2009
Aug 3, 2009
Aug 5, 2009
Aug 6, 2009
Aug 7, 2009
Aug 9, 2009
Aug 11, 2009
Aug 13, 2009
Aug 16, 2009
Aug 18, 2009
Aug 19, 2009
Aug 21, 2009
Aug 26, 2009
Aug 27, 2009
Aug 28, 2009
Aug 29, 2009
Sep 2, 2009
Sep 4, 2009
Sep 6, 2009
Sep 9, 2009
Sep 12, 2009
Sep 16, 2009
Sep 19, 2009
Sep 23, 2009
Sep 24, 2009
Sep 26, 2009
Sep 29, 2009
Oct 1, 2009
Oct 5, 2009
Oct 6, 2009
Oct 7, 2009
Oct 10, 2009
Oct 12, 2009
Oct 13, 2009
Oct 14, 2009
Oct 15, 2009
Oct 19, 2009
Oct 22, 2009
Oct 23, 2009
Oct 26, 2009
Oct 29, 2009
Oct 31, 2009
Nov 3, 2009
Nov 4, 2009
Nov 6, 2009
Nov 9, 2009
Nov 10, 2009
Nov 14, 2009
Nov 16, 2009
Nov 18, 2009
Nov 19, 2009
Nov 23, 2009
Nov 24, 2009
Nov 26, 2009
Nov 28, 2009
Nov 30, 2009
Dec 3, 2009
Dec 4, 2009
Dec 6, 2009
Dec 7, 2009
Dec 8, 2009
Dec 9, 2009
Dec 10, 2009
Dec 11, 2009
Dec 12, 2009
Dec 13, 2009
Dec 14, 2009
Dec 16, 2009
Dec 17, 2009
Dec 18, 2009
Dec 23, 2009
Dec 25, 2009
Dec 27, 2009
Dec 28, 2009
Dec 29, 2009
Jan 1, 2010
Jan 3, 2010
Jan 6, 2010
Jan 7, 2010
Jan 8, 2010
Jan 10, 2010
Jan 11, 2010
Jan 14, 2010
Jan 16, 2010
Jan 20, 2010
Jan 21, 2010
Jan 22, 2010
Jan 24, 2010
Jan 25, 2010
Jan 26, 2010
Jan 27, 2010
Jan 28, 2010
Jan 29, 2010
Jan 30, 2010
Jan 31, 2010
Feb 1, 2010
Feb 3, 2010
Feb 6, 2010
Feb 10, 2010
Feb 12, 2010
Feb 13, 2010
Feb 14, 2010
Feb 19, 2010
Feb 20, 2010
Feb 22, 2010
Feb 24, 2010
Feb 27, 2010
Mar 2, 2010
Mar 4, 2010
Mar 6, 2010
Mar 9, 2010
Mar 10, 2010
Mar 11, 2010
Mar 12, 2010
Mar 18, 2010
Mar 19, 2010
Mar 22, 2010
Mar 27, 2010
Apr 4, 2010
Apr 6, 2010
Apr 8, 2010
Apr 12, 2010
Apr 15, 2010
Apr 19, 2010
Apr 21, 2010
Apr 23, 2010
Apr 24, 2010
Apr 26, 2010
Apr 28, 2010
Apr 29, 2010
May 6, 2010
May 10, 2010
May 14, 2010
May 18, 2010
May 20, 2010
May 22, 2010
May 24, 2010
May 27, 2010
May 30, 2010
May 31, 2010
Jun 2, 2010
Jun 4, 2010
Jun 5, 2010
Jun 8, 2010
Jun 10, 2010
Jun 14, 2010
Jun 15, 2010
Jun 17, 2010
Jun 19, 2010
Jun 26, 2010
Jun 28, 2010
Jun 29, 2010
Jun 30, 2010
Jul 2, 2010
Jul 3, 2010
Jul 6, 2010
Jul 8, 2010
Jul 9, 2010
Jul 10, 2010
Jul 12, 2010
Jul 14, 2010
Jul 15, 2010
Jul 16, 2010
Jul 19, 2010
Jul 20, 2010
Jul 23, 2010
Jul 24, 2010
Jul 26, 2010
Jul 27, 2010
Jul 30, 2010
Aug 2, 2010
Aug 3, 2010
Aug 4, 2010
Aug 5, 2010
Aug 7, 2010
Aug 11, 2010
Aug 12, 2010
Aug 13, 2010
Aug 14, 2010
Aug 16, 2010
Aug 23, 2010
Aug 24, 2010
Aug 26, 2010
Aug 31, 2010
Sep 1, 2010
Sep 3, 2010
Sep 4, 2010
Sep 5, 2010
Sep 7, 2010
Sep 10, 2010
Sep 11, 2010
Sep 12, 2010
Sep 13, 2010
Sep 17, 2010
Sep 20, 2010
Sep 22, 2010
Sep 24, 2010
Sep 26, 2010
Sep 28, 2010
Sep 30, 2010
Oct 4, 2010
Oct 5, 2010
Oct 6, 2010
Oct 7, 2010
Oct 9, 2010
Oct 10, 2010
Oct 13, 2010
Oct 14, 2010
Oct 15, 2010
Oct 21, 2010
Oct 23, 2010
Oct 26, 2010
Oct 27, 2010
Oct 31, 2010
Nov 4, 2010
Nov 5, 2010
Nov 6, 2010
Nov 7, 2010
Nov 10, 2010
Nov 15, 2010
Nov 16, 2010
Nov 18, 2010
Nov 19, 2010
Nov 22, 2010
Nov 23, 2010
Nov 29, 2010
Nov 30, 2010
Dec 1, 2010
Dec 3, 2010
Dec 9, 2010
Dec 11, 2010
Dec 13, 2010
Dec 17, 2010
Dec 18, 2010
Dec 20, 2010
Dec 21, 2010
Dec 22, 2010
Dec 23, 2010
Dec 24, 2010
Dec 27, 2010
Dec 30, 2010
Dec 31, 2010
Jan 2, 2011
Jan 3, 2011
Jan 4, 2011
Jan 8, 2011
Jan 9, 2011
Jan 13, 2011
Jan 15, 2011
Jan 17, 2011
Jan 21, 2011
Jan 23, 2011
Jan 25, 2011
Jan 26, 2011
Jan 30, 2011
Jan 31, 2011
Feb 1, 2011
Feb 3, 2011
Feb 5, 2011
Feb 8, 2011
Feb 10, 2011
Feb 12, 2011
Feb 15, 2011
Feb 16, 2011
Feb 17, 2011
Feb 18, 2011
Feb 19, 2011
Feb 20, 2011
Feb 21, 2011
Feb 22, 2011
Feb 24, 2011
Feb 26, 2011
Feb 27, 2011
Feb 28, 2011
Mar 1, 2011
Mar 2, 2011
Mar 4, 2011
Mar 5, 2011
Mar 8, 2011
Mar 9, 2011
Mar 11, 2011
Mar 14, 2011
Mar 16, 2011
Mar 18, 2011
Mar 19, 2011
Mar 20, 2011
Mar 21, 2011
Mar 23, 2011
Mar 25, 2011
Mar 27, 2011
Mar 28, 2011
Apr 1, 2011
Apr 4, 2011
Apr 5, 2011
Apr 8, 2011
Apr 10, 2011
Apr 11, 2011
Apr 12, 2011
Apr 13, 2011
Apr 14, 2011
Apr 15, 2011
Apr 16, 2011
Apr 17, 2011
Apr 18, 2011
Apr 20, 2011
Apr 22, 2011
Apr 24, 2011
Apr 25, 2011
Apr 26, 2011
Apr 29, 2011
Apr 30, 2011
May 1, 2011
May 2, 2011
May 3, 2011
May 4, 2011
May 5, 2011
May 6, 2011
May 7, 2011
May 8, 2011
May 9, 2011
May 10, 2011
May 11, 2011
May 13, 2011
May 14, 2011
May 18, 2011
May 19, 2011
May 21, 2011
May 22, 2011
May 23, 2011
May 24, 2011
May 25, 2011
May 26, 2011
May 27, 2011
May 28, 2011
May 30, 2011
May 31, 2011
Jun 1, 2011
Jun 2, 2011
Jun 5, 2011
Jun 7, 2011
Jun 8, 2011
Jun 10, 2011
Jun 11, 2011
Jun 12, 2011
Jun 13, 2011
Jun 16, 2011
Jun 19, 2011
Jun 20, 2011
Jun 21, 2011
Jun 22, 2011
Jun 23, 2011
Jun 24, 2011
Jun 25, 2011
Jun 27, 2011
Jun 28, 2011
Jun 29, 2011
Jun 30, 2011
Jul 1, 2011
Jul 4, 2011
Jul 5, 2011
Jul 6, 2011
Jul 7, 2011
Jul 8, 2011
Jul 10, 2011
Jul 12, 2011
Jul 14, 2011
Jul 15, 2011
Jul 16, 2011
Jul 19, 2011
Jul 21, 2011
Jul 22, 2011
Jul 23, 2011
Jul 24, 2011
Jul 25, 2011
Jul 27, 2011
Jul 29, 2011
Jul 30, 2011
Jul 31, 2011
Aug 2, 2011
Aug 4, 2011
Aug 5, 2011
Aug 6, 2011
Aug 10, 2011
Aug 11, 2011
Aug 13, 2011
Aug 14, 2011
Aug 15, 2011
Aug 16, 2011
Aug 18, 2011
Aug 19, 2011
Aug 20, 2011
Aug 21, 2011
Aug 22, 2011
Aug 24, 2011
Aug 26, 2011
Aug 28, 2011
Aug 31, 2011
Sep 2, 2011
Sep 4, 2011
Sep 5, 2011
Sep 6, 2011
Sep 7, 2011
Sep 9, 2011
Sep 12, 2011
Sep 13, 2011
Sep 14, 2011
Sep 15, 2011
Sep 17, 2011
Sep 19, 2011
Sep 20, 2011
Sep 21, 2011
Sep 23, 2011
Sep 24, 2011
Sep 26, 2011
Sep 27, 2011
Sep 28, 2011
Oct 1, 2011
Oct 3, 2011
Oct 4, 2011
Oct 5, 2011
Oct 7, 2011
Oct 8, 2011
Oct 10, 2011
Oct 11, 2011
Oct 12, 2011
Oct 15, 2011
Oct 16, 2011
Oct 17, 2011
Oct 19, 2011
Oct 20, 2011
Oct 22, 2011
Oct 24, 2011
Oct 25, 2011
Oct 26, 2011
Oct 28, 2011
Oct 30, 2011
Oct 31, 2011
Nov 1, 2011
Nov 3, 2011
Nov 4, 2011
Nov 7, 2011
Nov 9, 2011
Nov 10, 2011
Nov 12, 2011
Nov 15, 2011
Nov 18, 2011
Nov 19, 2011
Nov 21, 2011
Nov 22, 2011
Nov 23, 2011
Nov 26, 2011
Nov 28, 2011
Nov 29, 2011
Nov 30, 2011
Dec 2, 2011
Dec 3, 2011
Dec 5, 2011
Dec 6, 2011
Dec 8, 2011
Dec 9, 2011
Dec 10, 2011
Dec 12, 2011
Dec 13, 2011
Dec 14, 2011
Dec 15, 2011
Dec 16, 2011
Dec 19, 2011
Dec 20, 2011
Dec 21, 2011
Dec 23, 2011
Dec 25, 2011
Dec 26, 2011
Dec 29, 2011
Jan 1, 2012
Jan 2, 2012
Jan 3, 2012
Jan 7, 2012
Jan 10, 2012
Jan 11, 2012
Jan 13, 2012
Jan 15, 2012
Jan 16, 2012
Jan 19, 2012
Jan 20, 2012
Jan 21, 2012
Jan 23, 2012
Jan 25, 2012
Jan 27, 2012
Jan 29, 2012
Jan 30, 2012
Jan 31, 2012
Feb 2, 2012
Feb 3, 2012
Feb 6, 2012
Feb 7, 2012
Feb 9, 2012
Feb 10, 2012
Feb 11, 2012
Feb 12, 2012
Feb 13, 2012
Feb 14, 2012
Feb 17, 2012
Feb 19, 2012
Feb 20, 2012
Feb 22, 2012
Feb 23, 2012
Feb 24, 2012
Feb 25, 2012
Feb 28, 2012
Mar 1, 2012
Mar 3, 2012
Mar 6, 2012
Mar 7, 2012
Mar 8, 2012
Mar 12, 2012
Mar 14, 2012
Mar 15, 2012
Mar 16, 2012
Mar 19, 2012
Mar 20, 2012
Mar 22, 2012
Mar 23, 2012
Mar 24, 2012
Mar 25, 2012
Mar 27, 2012
Mar 28, 2012
Mar 30, 2012
Mar 31, 2012
Apr 2, 2012
Apr 3, 2012
Apr 4, 2012
Apr 5, 2012
Apr 6, 2012
Apr 7, 2012
Apr 9, 2012
Apr 10, 2012
Apr 13, 2012
Apr 16, 2012
Apr 17, 2012
Apr 18, 2012
Apr 19, 2012
Apr 20, 2012
Apr 21, 2012
Apr 25, 2012
Apr 27, 2012
Apr 28, 2012
Apr 29, 2012
May 3, 2012
May 4, 2012
May 6, 2012
May 10, 2012
May 13, 2012
May 14, 2012
May 16, 2012
May 17, 2012
May 18, 2012
May 21, 2012
May 23, 2012
May 25, 2012
May 26, 2012
May 28, 2012
May 31, 2012
Jun 2, 2012
Jun 3, 2012
Jun 4, 2012
Jun 8, 2012
Jun 9, 2012
Jun 10, 2012
Jun 11, 2012
Jun 13, 2012
Jun 14, 2012
Jun 15, 2012
Jun 16, 2012
Jun 18, 2012
Jun 19, 2012
Jun 20, 2012
Jun 21, 2012
Jun 23, 2012
Jun 26, 2012
Jun 27, 2012
Jun 28, 2012
Jun 30, 2012
Jul 2, 2012
Jul 3, 2012
Jul 4, 2012
Jul 7, 2012
Jul 9, 2012
Jul 11, 2012
Jul 12, 2012
Jul 14, 2012
Jul 17, 2012
Jul 18, 2012
Jul 20, 2012
Jul 22, 2012
Jul 23, 2012
Jul 24, 2012
Jul 25, 2012
Jul 26, 2012
Jul 28, 2012
Jul 30, 2012
Jul 31, 2012
Aug 1, 2012
Aug 3, 2012
Aug 4, 2012
Aug 5, 2012
Aug 6, 2012
Aug 9, 2012
Aug 10, 2012
Aug 11, 2012
Aug 12, 2012
Aug 13, 2012
Aug 14, 2012
Aug 15, 2012
Aug 16, 2012
Aug 17, 2012
Aug 19, 2012
Aug 20, 2012
Aug 21, 2012
Aug 22, 2012
Aug 23, 2012
Aug 24, 2012
Aug 29, 2012
Aug 30, 2012
Sep 1, 2012
Sep 3, 2012
Sep 4, 2012
Sep 5, 2012
Sep 7, 2012
Sep 8, 2012
Sep 10, 2012
Sep 12, 2012
Sep 13, 2012
Sep 14, 2012
Sep 15, 2012
Sep 16, 2012
Sep 17, 2012
Sep 19, 2012
Sep 20, 2012
Sep 21, 2012
Sep 23, 2012
Sep 25, 2012
Sep 27, 2012
Oct 1, 2012
Oct 2, 2012
Oct 3, 2012
Oct 5, 2012
Oct 7, 2012
Oct 8, 2012
Oct 10, 2012
Oct 11, 2012
Oct 13, 2012
Oct 15, 2012
Oct 18, 2012
Oct 19, 2012
Oct 21, 2012
Oct 22, 2012
Oct 23, 2012
Oct 24, 2012
Oct 25, 2012
Oct 26, 2012
Oct 27, 2012
Oct 29, 2012
Oct 30, 2012
Oct 31, 2012
Nov 1, 2012
Nov 2, 2012
Nov 4, 2012
Nov 5, 2012
Nov 9, 2012
Nov 11, 2012
Nov 12, 2012
Nov 13, 2012
Nov 14, 2012
Nov 15, 2012
Nov 16, 2012
Nov 17, 2012
Nov 18, 2012
Nov 19, 2012
Nov 20, 2012
Nov 21, 2012
Nov 22, 2012
Nov 23, 2012
Nov 24, 2012
Nov 26, 2012
Nov 27, 2012
Nov 29, 2012
Nov 30, 2012
Dec 1, 2012
Dec 3, 2012
Dec 4, 2012
Dec 5, 2012
Dec 6, 2012
Dec 7, 2012
Dec 8, 2012
Dec 10, 2012
Dec 11, 2012
Dec 12, 2012
Dec 13, 2012
Dec 14, 2012
Dec 15, 2012
Dec 16, 2012
Dec 17, 2012
Dec 18, 2012
Dec 19, 2012
Dec 20, 2012
Dec 21, 2012
Dec 22, 2012
Dec 24, 2012
Dec 25, 2012
Dec 26, 2012
Dec 27, 2012
Dec 29, 2012
Dec 30, 2012
Jan 2, 2013
Jan 4, 2013
Jan 6, 2013
Jan 7, 2013
Jan 8, 2013
Jan 9, 2013
Jan 10, 2013
Jan 11, 2013
Jan 12, 2013
Jan 14, 2013
Jan 16, 2013
Jan 17, 2013
Jan 18, 2013
Jan 19, 2013
Jan 21, 2013
Jan 22, 2013
Jan 25, 2013
Jan 26, 2013
Jan 27, 2013
Jan 28, 2013
Jan 29, 2013
Jan 30, 2013
Jan 31, 2013
Feb 1, 2013
Feb 2, 2013
Feb 4, 2013
Feb 5, 2013
Feb 7, 2013
Feb 8, 2013
Feb 9, 2013
Feb 10, 2013
Feb 11, 2013
Feb 12, 2013
Feb 13, 2013
Feb 14, 2013
Feb 15, 2013
Feb 16, 2013
Feb 17, 2013
Feb 18, 2013
Feb 19, 2013
Feb 20, 2013
Feb 22, 2013
Feb 23, 2013
Feb 24, 2013
Feb 25, 2013
Feb 26, 2013
Feb 27, 2013
Feb 28, 2013
Mar 1, 2013
Mar 2, 2013
Mar 3, 2013
Mar 5, 2013
Mar 8, 2013
Mar 9, 2013
Mar 10, 2013
Mar 11, 2013
Mar 12, 2013
Mar 15, 2013
Mar 16, 2013
Mar 17, 2013
Mar 18, 2013
Mar 19, 2013
Mar 20, 2013
Mar 21, 2013
Mar 22, 2013
Mar 23, 2013
Mar 25, 2013
Mar 26, 2013
Mar 27, 2013
Mar 28, 2013
Mar 30, 2013
Apr 2, 2013
Apr 3, 2013
Apr 4, 2013
Apr 5, 2013
Apr 6, 2013
Apr 8, 2013
Apr 9, 2013
Apr 10, 2013
Apr 11, 2013
Apr 12, 2013
Apr 13, 2013
Apr 14, 2013
Apr 15, 2013
Apr 16, 2013
Apr 17, 2013
Apr 18, 2013
Apr 19, 2013
Apr 20, 2013
Apr 21, 2013
Apr 22, 2013
Apr 23, 2013
Apr 24, 2013
Apr 25, 2013
Apr 26, 2013
Apr 27, 2013
Apr 28, 2013
Apr 29, 2013
Apr 30, 2013
May 2, 2013
May 3, 2013
May 4, 2013
May 5, 2013
May 6, 2013
May 7, 2013
May 8, 2013
May 9, 2013
May 11, 2013
May 13, 2013
May 14, 2013
May 15, 2013
May 16, 2013
May 17, 2013
May 18, 2013
May 19, 2013
May 20, 2013
May 21, 2013
May 22, 2013
May 23, 2013
May 24, 2013
May 25, 2013
May 26, 2013
May 27, 2013
May 28, 2013
May 29, 2013
May 30, 2013
May 31, 2013
Jun 1, 2013
Jun 2, 2013
Jun 3, 2013
Jun 4, 2013
Jun 5, 2013
Jun 6, 2013
Jun 7, 2013
Jun 8, 2013
Jun 9, 2013
Jun 10, 2013
Jun 11, 2013
Jun 12, 2013
Jun 13, 2013
Jun 14, 2013
Jun 16, 2013
Jun 17, 2013
Jun 18, 2013
Jun 19, 2013
Jun 21, 2013
Jun 22, 2013
Jun 23, 2013
Jun 24, 2013
Jun 25, 2013
Jun 26, 2013
Jun 27, 2013
Jun 28, 2013
Jun 29, 2013
Jun 30, 2013
Jul 1, 2013
Jul 2, 2013
Jul 3, 2013
Jul 4, 2013
Jul 5, 2013
Jul 6, 2013
Jul 7, 2013
Jul 8, 2013
Jul 11, 2013
Jul 15, 2013
Jul 16, 2013
Jul 17, 2013
Jul 18, 2013
Jul 19, 2013
Jul 21, 2013
Jul 22, 2013
Jul 23, 2013
Jul 24, 2013
Jul 25, 2013
Jul 26, 2013
Jul 28, 2013
Jul 29, 2013
Jul 30, 2013
Aug 1, 2013
Aug 2, 2013
Aug 3, 2013
Aug 4, 2013
Aug 6, 2013
Aug 7, 2013
Aug 8, 2013
Aug 9, 2013
Aug 10, 2013
Aug 11, 2013
Aug 12, 2013
Aug 13, 2013
Aug 14, 2013
Aug 15, 2013
Aug 16, 2013
Aug 17, 2013
Aug 19, 2013
Aug 20, 2013
Aug 23, 2013
Aug 24, 2013
Aug 25, 2013
Aug 28, 2013
Aug 30, 2013
Aug 31, 2013
Sep 1, 2013
Sep 5, 2013
Sep 6, 2013
Sep 7, 2013
Sep 8, 2013
Sep 9, 2013
Sep 10, 2013
Sep 11, 2013
Sep 12, 2013
Sep 13, 2013
Sep 16, 2013
Sep 17, 2013
Sep 18, 2013
Sep 19, 2013
Sep 20, 2013
Sep 21, 2013
Sep 22, 2013
Sep 23, 2013
Sep 25, 2013
Sep 27, 2013
Sep 28, 2013
Sep 29, 2013
Sep 30, 2013
Oct 1, 2013
Oct 2, 2013
Oct 4, 2013
Oct 5, 2013
Oct 6, 2013
Oct 7, 2013
Oct 8, 2013
Oct 9, 2013
Oct 10, 2013
Oct 11, 2013
Oct 14, 2013
Oct 15, 2013
Oct 17, 2013
Oct 18, 2013
Oct 19, 2013
Oct 21, 2013
Oct 22, 2013
Oct 24, 2013
Oct 25, 2013
Oct 27, 2013
Oct 28, 2013
Oct 29, 2013
Oct 30, 2013
Oct 31, 2013
Nov 1, 2013
Nov 4, 2013
Nov 5, 2013
Nov 6, 2013
Nov 7, 2013
Nov 8, 2013
Nov 10, 2013
Nov 12, 2013
Nov 18, 2013
Nov 19, 2013
Nov 20, 2013
Nov 21, 2013
Nov 22, 2013
Nov 23, 2013
Nov 25, 2013
Nov 26, 2013
Nov 29, 2013
Dec 2, 2013
Dec 5, 2013
Dec 7, 2013
Dec 8, 2013
Dec 10, 2013
Dec 11, 2013
Dec 12, 2013
Dec 13, 2013
Dec 14, 2013
Dec 16, 2013
Dec 17, 2013
Dec 18, 2013
Dec 19, 2013
Dec 21, 2013
Dec 23, 2013
Dec 25, 2013
Dec 27, 2013
Dec 29, 2013
Dec 31, 2013
Jan 2, 2014
Jan 4, 2014
Jan 5, 2014
Jan 6, 2014
Jan 7, 2014
Jan 9, 2014
Jan 10, 2014
Jan 13, 2014
Jan 15, 2014
Jan 17, 2014
Jan 18, 2014
Jan 20, 2014
Jan 21, 2014
Jan 22, 2014
Jan 23, 2014
Jan 24, 2014
Jan 25, 2014
Jan 27, 2014
Jan 28, 2014
Jan 29, 2014
Jan 31, 2014
Feb 1, 2014
Feb 3, 2014
Feb 4, 2014
Feb 5, 2014
Feb 6, 2014
Feb 7, 2014
Feb 8, 2014
Feb 9, 2014
Feb 10, 2014
Feb 11, 2014
Feb 12, 2014
Feb 13, 2014
Feb 14, 2014
Feb 16, 2014
Feb 17, 2014
Feb 19, 2014
Feb 21, 2014
Feb 22, 2014
Feb 23, 2014
Feb 25, 2014
Feb 26, 2014
Feb 28, 2014
Mar 1, 2014
Mar 2, 2014
Mar 3, 2014
Mar 4, 2014
Mar 6, 2014
Mar 8, 2014
Mar 9, 2014
Mar 10, 2014
Mar 11, 2014
Mar 12, 2014
Mar 14, 2014
Mar 15, 2014
Mar 16, 2014
Mar 17, 2014
Mar 19, 2014
Mar 21, 2014
Mar 22, 2014
Mar 23, 2014
Mar 24, 2014
Mar 25, 2014
Mar 26, 2014
Mar 27, 2014
Mar 28, 2014
Mar 29, 2014
Mar 30, 2014
Mar 31, 2014
Apr 1, 2014
Apr 2, 2014
Apr 3, 2014
Apr 4, 2014
Apr 6, 2014
Apr 7, 2014
Apr 8, 2014
Apr 10, 2014
Apr 11, 2014
Apr 12, 2014
Apr 13, 2014
Apr 14, 2014
Apr 15, 2014
Apr 16, 2014
Apr 17, 2014
Apr 18, 2014
Apr 19, 2014
Apr 23, 2014
Apr 24, 2014
Apr 25, 2014
Apr 26, 2014
Apr 28, 2014
Apr 29, 2014
May 1, 2014
May 2, 2014
May 5, 2014
May 6, 2014
May 7, 2014
May 8, 2014
May 9, 2014
May 10, 2014
May 12, 2014
May 13, 2014
May 14, 2014
May 15, 2014
May 16, 2014
May 17, 2014
May 18, 2014
May 20, 2014
May 21, 2014
May 23, 2014
May 24, 2014
May 26, 2014
May 27, 2014
May 28, 2014
May 29, 2014
May 31, 2014
Jun 2, 2014
Jun 3, 2014
Jun 4, 2014
Jun 5, 2014
Jun 6, 2014
Jun 7, 2014
Jun 8, 2014
Jun 9, 2014
Jun 11, 2014
Jun 12, 2014
Jun 13, 2014
Jun 14, 2014
Jun 15, 2014
Jun 16, 2014
Jun 17, 2014
Jun 18, 2014
Jun 19, 2014
Jun 21, 2014
Jun 22, 2014
Jun 24, 2014
Jun 25, 2014
Jun 26, 2014
Jun 27, 2014
Jun 29, 2014
Jun 30, 2014
Jul 2, 2014
Jul 4, 2014
Jul 5, 2014
Jul 6, 2014
Jul 7, 2014
Jul 8, 2014
Jul 10, 2014
Jul 11, 2014
Jul 14, 2014
Jul 15, 2014
Jul 16, 2014
Jul 17, 2014
Jul 19, 2014
Jul 20, 2014
Jul 21, 2014
Jul 22, 2014
Jul 23, 2014
Jul 25, 2014
Jul 26, 2014
Jul 27, 2014
Jul 28, 2014
Jul 29, 2014
Jul 31, 2014
Aug 1, 2014
Aug 2, 2014
Aug 3, 2014
Aug 4, 2014
Aug 5, 2014
Aug 6, 2014
Aug 7, 2014
Aug 8, 2014
Aug 10, 2014
Aug 11, 2014
Aug 14, 2014
Aug 16, 2014
Aug 17, 2014
Aug 18, 2014
Aug 20, 2014
Aug 21, 2014
Aug 22, 2014
Aug 23, 2014
Aug 24, 2014
Aug 25, 2014
Aug 26, 2014
Aug 28, 2014
Aug 29, 2014
Aug 30, 2014
Aug 31, 2014
Sep 2, 2014
Sep 3, 2014
Sep 5, 2014
Sep 6, 2014
Sep 7, 2014
Sep 8, 2014
Sep 9, 2014
Sep 10, 2014
Sep 11, 2014
Sep 12, 2014
Sep 13, 2014
Sep 14, 2014
Sep 16, 2014
Sep 17, 2014
Sep 18, 2014
Sep 19, 2014
Sep 20, 2014
Sep 23, 2014
Sep 24, 2014
Sep 25, 2014
Sep 27, 2014
Sep 29, 2014
Sep 30, 2014
Oct 1, 2014
Oct 2, 2014
Oct 3, 2014
Oct 4, 2014
Oct 5, 2014
Oct 6, 2014
Oct 8, 2014
Oct 9, 2014
Oct 10, 2014
Oct 11, 2014
Oct 12, 2014
Oct 13, 2014
Oct 14, 2014
Oct 16, 2014
Oct 17, 2014
Oct 18, 2014
Oct 20, 2014
Oct 22, 2014
Oct 23, 2014
Oct 24, 2014
Oct 25, 2014
Oct 28, 2014
Oct 29, 2014
Oct 31, 2014
Nov 2, 2014
Nov 3, 2014
Nov 4, 2014
Nov 7, 2014
Nov 8, 2014
Nov 10, 2014
Nov 11, 2014
Nov 12, 2014
Nov 13, 2014
Nov 14, 2014
Nov 16, 2014
Nov 18, 2014
Nov 19, 2014
Nov 20, 2014
Nov 21, 2014
Nov 22, 2014
Nov 24, 2014
Nov 25, 2014
Nov 26, 2014
Nov 28, 2014
Nov 29, 2014
Dec 1, 2014
Dec 2, 2014
Dec 3, 2014
Dec 4, 2014
Dec 5, 2014
Dec 6, 2014
Dec 8, 2014
Dec 10, 2014
Dec 11, 2014
Dec 12, 2014
Dec 13, 2014
Dec 14, 2014
Dec 15, 2014
Dec 16, 2014
Dec 17, 2014
Dec 18, 2014
Dec 19, 2014
Dec 20, 2014
Dec 21, 2014
Dec 22, 2014
Dec 24, 2014
Dec 25, 2014
Dec 27, 2014
Dec 29, 2014
Dec 30, 2014
Jan 1, 2015
Jan 3, 2015
Jan 5, 2015
Jan 6, 2015
Jan 7, 2015
Jan 8, 2015
Jan 9, 2015
Jan 10, 2015
Jan 11, 2015
Jan 12, 2015
Jan 13, 2015
Jan 16, 2015
Jan 17, 2015
Jan 18, 2015
Jan 19, 2015
Jan 20, 2015
Jan 21, 2015
Jan 23, 2015
Jan 24, 2015
Jan 25, 2015
Jan 26, 2015
Jan 27, 2015
Jan 28, 2015
Jan 29, 2015
Jan 30, 2015
Jan 31, 2015
Feb 1, 2015
Feb 2, 2015
Feb 4, 2015
Feb 5, 2015
Feb 6, 2015
Feb 7, 2015
Feb 8, 2015
Feb 9, 2015
Feb 10, 2015
Feb 11, 2015
Feb 12, 2015
Feb 13, 2015
Feb 14, 2015
Feb 15, 2015
Feb 17, 2015
Feb 18, 2015
Feb 19, 2015
Feb 20, 2015
Feb 21, 2015
Feb 22, 2015
Feb 23, 2015
Feb 24, 2015
Feb 25, 2015
Feb 26, 2015
Feb 27, 2015
Feb 28, 2015
Mar 1, 2015
Mar 2, 2015
Mar 3, 2015
Mar 4, 2015
Mar 6, 2015
Mar 7, 2015
Mar 9, 2015
Mar 10, 2015
Mar 11, 2015
Mar 13, 2015
Mar 14, 2015
Mar 15, 2015
Mar 16, 2015
Mar 18, 2015
Mar 19, 2015
Mar 20, 2015
Mar 22, 2015
Mar 23, 2015
Mar 24, 2015
Mar 25, 2015
Mar 26, 2015
Mar 27, 2015
Mar 28, 2015
Mar 29, 2015
Mar 30, 2015
Mar 31, 2015
Apr 2, 2015
Apr 3, 2015
Apr 4, 2015
Apr 6, 2015
Apr 7, 2015
Apr 8, 2015
Apr 9, 2015
Apr 10, 2015
Apr 11, 2015
Apr 12, 2015
Apr 13, 2015
Apr 14, 2015
Apr 15, 2015
Apr 17, 2015
Apr 19, 2015
Apr 20, 2015
Apr 21, 2015
Apr 22, 2015
Apr 23, 2015
Apr 24, 2015
Apr 25, 2015
Apr 26, 2015
Apr 27, 2015
Apr 28, 2015
Apr 29, 2015
Apr 30, 2015
May 1, 2015
May 2, 2015
May 3, 2015
May 4, 2015
May 5, 2015
May 6, 2015
May 7, 2015
May 8, 2015
May 9, 2015
May 10, 2015
May 11, 2015
May 12, 2015
May 13, 2015
May 14, 2015
May 16, 2015
May 17, 2015
May 18, 2015
May 19, 2015
May 20, 2015
May 21, 2015
May 22, 2015
May 23, 2015
May 25, 2015
May 28, 2015
May 29, 2015
May 31, 2015
Jun 1, 2015
Jun 2, 2015
Jun 3, 2015
Jun 4, 2015
Jun 5, 2015
Jun 6, 2015
Jun 7, 2015
Jun 8, 2015
Jun 9, 2015
Jun 10, 2015
Jun 11, 2015
Jun 12, 2015
Jun 13, 2015
Jun 14, 2015
Jun 15, 2015
Jun 16, 2015
Jun 17, 2015
Jun 19, 2015
Jun 20, 2015
Jun 21, 2015
Jun 22, 2015
Jun 23, 2015
Jun 24, 2015
Jun 25, 2015
Jun 26, 2015
Jun 27, 2015
Jun 28, 2015
Jun 29, 2015
Jun 30, 2015
Jul 1, 2015
Jul 2, 2015
Jul 3, 2015
Jul 4, 2015
Jul 5, 2015
Jul 6, 2015
Jul 7, 2015
Jul 8, 2015
Jul 9, 2015
Jul 11, 2015
Jul 12, 2015
Jul 13, 2015
Jul 14, 2015
Jul 16, 2015
Jul 17, 2015
Jul 18, 2015
Jul 19, 2015
Jul 20, 2015
Jul 21, 2015
Jul 22, 2015
Jul 24, 2015
Jul 25, 2015
Jul 26, 2015
Jul 27, 2015
Jul 28, 2015
Jul 29, 2015
Jul 30, 2015
Jul 31, 2015
Aug 1, 2015
Aug 2, 2015
Aug 3, 2015
Aug 4, 2015
Aug 5, 2015
Aug 6, 2015
Aug 7, 2015
Aug 8, 2015
Aug 9, 2015
Aug 10, 2015
Aug 11, 2015
Aug 12, 2015
Aug 13, 2015
Aug 14, 2015
Aug 15, 2015
Aug 16, 2015
Aug 17, 2015
Aug 18, 2015
Aug 19, 2015
Aug 20, 2015
Aug 21, 2015
Aug 24, 2015
Aug 26, 2015
Aug 27, 2015
Aug 28, 2015
Aug 29, 2015
Aug 30, 2015
Aug 31, 2015
Sep 1, 2015
Sep 2, 2015
Sep 3, 2015
Sep 4, 2015
Sep 5, 2015
Sep 6, 2015
Sep 7, 2015
Sep 8, 2015
Sep 9, 2015
Sep 10, 2015
Sep 11, 2015
Sep 12, 2015
Sep 14, 2015
Sep 15, 2015
Sep 16, 2015
Sep 17, 2015
Sep 18, 2015
Sep 19, 2015
Sep 20, 2015
Sep 21, 2015
Sep 22, 2015
Sep 23, 2015
Sep 24, 2015
Sep 25, 2015
Sep 26, 2015
Sep 27, 2015
Sep 28, 2015
Sep 29, 2015
Sep 30, 2015
Oct 1, 2015
Oct 2, 2015
Oct 3, 2015
Oct 4, 2015
Oct 5, 2015
Oct 6, 2015
Oct 7, 2015
Oct 8, 2015
Oct 9, 2015
Oct 10, 2015
Oct 11, 2015
Oct 12, 2015
Oct 15, 2015
Oct 16, 2015
Oct 17, 2015
Oct 18, 2015
Oct 19, 2015
Oct 20, 2015
Oct 21, 2015
Oct 22, 2015
Oct 23, 2015
Oct 24, 2015
Oct 25, 2015
Oct 26, 2015
Oct 28, 2015
Oct 30, 2015
Oct 31, 2015
Nov 1, 2015
Nov 3, 2015
Nov 4, 2015
Nov 5, 2015
Nov 6, 2015
Nov 7, 2015
Nov 8, 2015
Nov 9, 2015
Nov 11, 2015
Nov 12, 2015
Nov 13, 2015
Nov 14, 2015
Nov 15, 2015
Nov 17, 2015
Nov 18, 2015
Nov 19, 2015
Nov 20, 2015
Nov 21, 2015
Nov 22, 2015
Nov 23, 2015
Nov 24, 2015
Nov 27, 2015
Nov 28, 2015
Nov 29, 2015
Nov 30, 2015
Dec 1, 2015
Dec 2, 2015
Dec 4, 2015
Dec 5, 2015
Dec 6, 2015
Dec 8, 2015
Dec 9, 2015
Dec 10, 2015
Dec 12, 2015
Dec 13, 2015
Dec 14, 2015
Dec 15, 2015
Dec 17, 2015
Dec 18, 2015
Dec 19, 2015
Dec 20, 2015
Dec 21, 2015
Dec 22, 2015
Dec 23, 2015
Dec 25, 2015
Dec 26, 2015
Dec 27, 2015
Dec 29, 2015
Dec 30, 2015
Dec 31, 2015
Jan 2, 2016
Jan 4, 2016
Jan 5, 2016
Jan 6, 2016
Jan 7, 2016
Jan 8, 2016
Jan 9, 2016
Jan 10, 2016
Jan 11, 2016
Jan 12, 2016
Jan 13, 2016
Jan 14, 2016
Jan 15, 2016
Jan 17, 2016
Jan 18, 2016
Jan 20, 2016
Jan 21, 2016
Jan 22, 2016
Jan 23, 2016
Jan 24, 2016
Jan 25, 2016
Jan 26, 2016
Jan 28, 2016
Jan 29, 2016
Jan 30, 2016
Jan 31, 2016
Feb 1, 2016
Feb 2, 2016
Feb 3, 2016
Feb 4, 2016
Feb 5, 2016
Feb 6, 2016
Feb 7, 2016
Feb 8, 2016
Feb 9, 2016
Feb 10, 2016
Feb 12, 2016
Feb 13, 2016
Feb 15, 2016
Feb 16, 2016
Feb 18, 2016
Feb 19, 2016
Feb 20, 2016
Feb 21, 2016
Feb 22, 2016
Feb 23, 2016
Feb 26, 2016
Feb 27, 2016
Feb 28, 2016
Feb 29, 2016
Mar 1, 2016
Mar 3, 2016
Mar 4, 2016
Mar 5, 2016
Mar 6, 2016
Mar 7, 2016
Mar 8, 2016
Mar 9, 2016
Mar 10, 2016
Mar 11, 2016
Mar 12, 2016
Mar 13, 2016
Mar 14, 2016
Mar 15, 2016
Mar 16, 2016
Mar 17, 2016
Mar 18, 2016
Mar 19, 2016
Mar 20, 2016
Mar 21, 2016
Mar 22, 2016
Mar 23, 2016
Mar 24, 2016
Mar 25, 2016
Mar 26, 2016
Mar 27, 2016
Mar 28, 2016
Mar 29, 2016
Mar 30, 2016
Mar 31, 2016
Apr 1, 2016
Apr 2, 2016
Apr 3, 2016
Apr 4, 2016
Apr 5, 2016
Apr 6, 2016
Apr 7, 2016
Apr 8, 2016
Apr 9, 2016
Apr 10, 2016
Apr 11, 2016
Apr 12, 2016
Apr 13, 2016
Apr 14, 2016
Apr 15, 2016
Apr 17, 2016
Apr 18, 2016
Apr 19, 2016
Apr 20, 2016
Apr 21, 2016
Apr 22, 2016
Apr 23, 2016
Apr 24, 2016
Apr 25, 2016
Apr 26, 2016
Apr 27, 2016
Apr 28, 2016
Apr 29, 2016
Apr 30, 2016
May 1, 2016
May 2, 2016
May 3, 2016
May 4, 2016
May 5, 2016
May 6, 2016
May 7, 2016
May 8, 2016
May 9, 2016
May 10, 2016
May 11, 2016
May 12, 2016
May 13, 2016
May 16, 2016
May 17, 2016
May 18, 2016
May 19, 2016
May 20, 2016
May 21, 2016
May 23, 2016
May 24, 2016
May 25, 2016
May 26, 2016
May 27, 2016
May 28, 2016
May 29, 2016
May 30, 2016
May 31, 2016
Jun 1, 2016
Jun 2, 2016
Jun 3, 2016
Jun 4, 2016
Jun 5, 2016
Jun 6, 2016
Jun 7, 2016
Jun 8, 2016
Jun 9, 2016
Jun 10, 2016
Jun 11, 2016
Jun 12, 2016
Jun 13, 2016
Jun 14, 2016
Jun 15, 2016
Jun 16, 2016
Jun 17, 2016
Jun 18, 2016
Jun 19, 2016
Jun 20, 2016
Jun 21, 2016
Jun 22, 2016
Jun 23, 2016
Jun 24, 2016
Jun 25, 2016
Jun 26, 2016
Jun 27, 2016
Jun 29, 2016
Jun 30, 2016
Jul 1, 2016
Jul 2, 2016
Jul 3, 2016
Jul 4, 2016
Jul 5, 2016
Jul 6, 2016
Jul 7, 2016
Jul 8, 2016
Jul 9, 2016
Jul 10, 2016
Jul 12, 2016
Jul 13, 2016
Jul 14, 2016
Jul 15, 2016
Jul 16, 2016
Jul 17, 2016
Jul 18, 2016
Jul 19, 2016
Jul 20, 2016
Jul 21, 2016
Jul 22, 2016
Jul 23, 2016
Jul 24, 2016
Jul 25, 2016
Jul 26, 2016
Jul 27, 2016
Jul 28, 2016
Jul 29, 2016
Jul 30, 2016
Jul 31, 2016
Aug 1, 2016
Aug 2, 2016
Aug 3, 2016
Aug 4, 2016
Aug 5, 2016
Aug 6, 2016
Aug 7, 2016
Aug 8, 2016
Aug 9, 2016
Aug 11, 2016
Aug 12, 2016
Aug 13, 2016
Aug 14, 2016
Aug 15, 2016
Aug 16, 2016
Aug 17, 2016
Aug 18, 2016
Aug 19, 2016
Aug 20, 2016
Aug 21, 2016
Aug 22, 2016
Aug 23, 2016
Aug 24, 2016
Aug 25, 2016
Aug 26, 2016
Aug 27, 2016
Aug 28, 2016
Aug 29, 2016
Aug 30, 2016
Aug 31, 2016
Sep 1, 2016
Sep 2, 2016
Sep 3, 2016
Sep 4, 2016
Sep 5, 2016
Sep 6, 2016
Sep 7, 2016
Sep 8, 2016
Sep 9, 2016
Sep 10, 2016
Sep 11, 2016
Sep 12, 2016
Sep 13, 2016
Sep 14, 2016
Sep 16, 2016
Sep 17, 2016
Sep 18, 2016
Sep 19, 2016
Sep 20, 2016
Sep 21, 2016
Sep 22, 2016
Sep 23, 2016
Sep 24, 2016
Sep 25, 2016
Sep 26, 2016
Sep 27, 2016
Sep 28, 2016
Sep 29, 2016
Sep 30, 2016
Oct 1, 2016
Oct 2, 2016
Oct 3, 2016
Oct 4, 2016
Oct 5, 2016
Oct 6, 2016
Oct 7, 2016
Oct 8, 2016
Oct 9, 2016
Oct 10, 2016
Oct 11, 2016
Oct 12, 2016
Oct 13, 2016
Oct 15, 2016
Oct 16, 2016
Oct 17, 2016
Oct 18, 2016
Oct 19, 2016
Oct 20, 2016
Oct 21, 2016
Oct 22, 2016
Oct 23, 2016
Oct 24, 2016
Oct 25, 2016
Oct 26, 2016
Oct 27, 2016
Oct 28, 2016
Oct 29, 2016
Oct 30, 2016
Oct 31, 2016
Nov 1, 2016
Nov 2, 2016
Nov 4, 2016
Nov 5, 2016
Nov 6, 2016
Nov 7, 2016
Nov 9, 2016
Nov 10, 2016
Nov 11, 2016
Nov 12, 2016
Nov 14, 2016
Nov 15, 2016
Nov 16, 2016
Nov 19, 2016
Nov 20, 2016
Nov 21, 2016
Nov 23, 2016
Nov 25, 2016
Nov 26, 2016
Nov 28, 2016
Nov 29, 2016
Nov 30, 2016
Dec 2, 2016
Dec 3, 2016
Dec 4, 2016
Dec 5, 2016
Dec 8, 2016
Dec 9, 2016
Dec 10, 2016
Dec 11, 2016
Dec 12, 2016
Dec 13, 2016
Dec 15, 2016
Dec 16, 2016
Dec 17, 2016
Dec 18, 2016
Dec 19, 2016
Dec 20, 2016
Dec 21, 2016
Dec 24, 2016
Dec 25, 2016
Dec 26, 2016
Dec 27, 2016
Dec 28, 2016
Dec 29, 2016
Dec 30, 2016
Dec 31, 2016
Jan 2, 2017
Jan 3, 2017
Jan 4, 2017
Jan 5, 2017
Jan 6, 2017
Jan 7, 2017
Jan 8, 2017
Jan 9, 2017
Jan 10, 2017
Jan 11, 2017
Jan 12, 2017
Jan 14, 2017
Jan 15, 2017
Jan 16, 2017
Jan 17, 2017
Jan 18, 2017
Jan 19, 2017
Jan 20, 2017
Jan 21, 2017
Jan 22, 2017
Jan 23, 2017
Jan 24, 2017
Jan 25, 2017
Jan 26, 2017
Jan 28, 2017
Jan 29, 2017
Jan 30, 2017
Jan 31, 2017
Feb 2, 2017
Feb 3, 2017
Feb 4, 2017
Feb 5, 2017
Feb 6, 2017
Feb 7, 2017
Feb 8, 2017
Feb 9, 2017
Feb 10, 2017
Feb 11, 2017
Feb 12, 2017
Feb 13, 2017
Feb 16, 2017
Feb 17, 2017
Feb 19, 2017
Feb 20, 2017
Feb 21, 2017
Feb 22, 2017
Feb 23, 2017
Feb 24, 2017
Feb 25, 2017
Feb 26, 2017
Feb 27, 2017
Feb 28, 2017
Mar 1, 2017
Mar 2, 2017
Mar 3, 2017
Mar 4, 2017
Mar 5, 2017
Mar 6, 2017
Mar 7, 2017
Mar 8, 2017
Mar 11, 2017
Mar 12, 2017
Mar 13, 2017
Mar 14, 2017
Mar 15, 2017
Mar 19, 2017
Mar 20, 2017
Mar 21, 2017
Mar 22, 2017
Mar 23, 2017
Mar 24, 2017
Mar 25, 2017
Mar 26, 2017
Mar 28, 2017
Apr 2, 2017
Apr 3, 2017
Apr 4, 2017
Apr 5, 2017
Apr 6, 2017
Apr 7, 2017
Apr 8, 2017
Apr 9, 2017
Apr 10, 2017
Apr 11, 2017
Apr 12, 2017
Apr 13, 2017
Apr 16, 2017
Apr 18, 2017
Apr 19, 2017
Apr 20, 2017
Apr 21, 2017
Apr 22, 2017
Apr 23, 2017
Apr 24, 2017
Apr 25, 2017
Apr 26, 2017
Apr 27, 2017
Apr 28, 2017
Apr 29, 2017
May 3, 2017
May 4, 2017
May 5, 2017
May 9, 2017
May 10, 2017
May 11, 2017
May 12, 2017
May 13, 2017
May 14, 2017
May 15, 2017
May 17, 2017
May 19, 2017
May 20, 2017
May 21, 2017
May 22, 2017
May 24, 2017
May 25, 2017
May 26, 2017
May 27, 2017
May 28, 2017
May 29, 2017
May 30, 2017
May 31, 2017
Jun 1, 2017
Jun 3, 2017
Jun 4, 2017
Jun 5, 2017
Jun 6, 2017
Jun 7, 2017
Jun 9, 2017
Jun 10, 2017
Jun 11, 2017
Jun 12, 2017
Jun 13, 2017
Jun 14, 2017
Jun 15, 2017
Jun 16, 2017
Jun 17, 2017
Jun 18, 2017
Jun 19, 2017
Jun 20, 2017
Jun 21, 2017
Jun 22, 2017
Jun 23, 2017
Jun 27, 2017
Jun 28, 2017
Jun 29, 2017
Jun 30, 2017
Jul 1, 2017
Jul 2, 2017
Jul 3, 2017
Jul 4, 2017
Jul 5, 2017
Jul 6, 2017
Jul 7, 2017
Jul 8, 2017
Jul 9, 2017
Jul 10, 2017
Jul 11, 2017
Jul 12, 2017
Jul 13, 2017
Jul 14, 2017
Jul 15, 2017
Jul 16, 2017
Jul 17, 2017
Jul 18, 2017
Jul 19, 2017
Jul 20, 2017
Jul 21, 2017
Jul 22, 2017
Jul 23, 2017
Jul 25, 2017
Jul 26, 2017
Jul 27, 2017
Jul 28, 2017
Jul 29, 2017
Jul 30, 2017
Aug 3, 2017
Aug 4, 2017
Aug 5, 2017
Aug 6, 2017
Aug 8, 2017
Aug 9, 2017
Aug 10, 2017
Aug 12, 2017
Aug 13, 2017
Aug 14, 2017
Aug 16, 2017
Aug 17, 2017
Aug 18, 2017
Aug 19, 2017
Aug 20, 2017
Aug 21, 2017
Aug 22, 2017
Aug 23, 2017
Aug 24, 2017
Aug 25, 2017
Aug 26, 2017
Aug 27, 2017
Aug 28, 2017
Aug 29, 2017
Aug 30, 2017
Aug 31, 2017
Sep 1, 2017
Sep 2, 2017
Sep 4, 2017
Sep 5, 2017
Sep 6, 2017
Sep 7, 2017
Sep 8, 2017
Sep 9, 2017
Sep 10, 2017
Sep 11, 2017
Sep 12, 2017
Sep 13, 2017
Sep 15, 2017
Sep 16, 2017
Sep 19, 2017
Sep 20, 2017
Sep 22, 2017
Sep 27, 2017
Sep 28, 2017
Sep 29, 2017
Sep 30, 2017
Oct 2, 2017
Oct 3, 2017
Oct 4, 2017
Oct 5, 2017
Oct 7, 2017
Oct 8, 2017
Oct 9, 2017
Oct 13, 2017
Oct 14, 2017
Oct 15, 2017
Oct 16, 2017
Oct 17, 2017
Oct 18, 2017
Oct 19, 2017
Oct 20, 2017
Oct 21, 2017
Oct 22, 2017
Oct 23, 2017
Oct 24, 2017
Oct 25, 2017
Oct 29, 2017
Oct 30, 2017
Oct 31, 2017
Nov 1, 2017
Nov 2, 2017
Nov 3, 2017
Nov 4, 2017
Nov 5, 2017
Nov 6, 2017
Nov 8, 2017
Nov 9, 2017
Nov 11, 2017
Nov 12, 2017
Nov 13, 2017
Nov 14, 2017
Nov 15, 2017
Nov 17, 2017
Nov 18, 2017
Nov 19, 2017
Nov 20, 2017
Nov 22, 2017
Nov 23, 2017
Nov 24, 2017
Nov 25, 2017
Nov 26, 2017
Nov 27, 2017
Nov 28, 2017
Dec 4, 2017
Dec 5, 2017
Dec 6, 2017
Dec 7, 2017
Dec 8, 2017
Dec 9, 2017
Dec 10, 2017
Dec 11, 2017
Dec 13, 2017
Dec 19, 2017
Dec 20, 2017
Dec 22, 2017
Dec 23, 2017
Dec 24, 2017
Dec 26, 2017
Dec 27, 2017
Dec 28, 2017
Dec 29, 2017
Dec 31, 2017
Jan 1, 2018
Jan 2, 2018
Jan 3, 2018
Jan 4, 2018
Jan 5, 2018
Jan 6, 2018
Jan 8, 2018
Jan 9, 2018
Jan 10, 2018
Jan 11, 2018
Jan 12, 2018
Jan 13, 2018
Jan 14, 2018
Jan 15, 2018
Jan 16, 2018
Jan 17, 2018
Jan 18, 2018
Jan 19, 2018
Jan 23, 2018
Jan 24, 2018
Jan 25, 2018
Jan 26, 2018
Jan 27, 2018
Jan 28, 2018
Jan 29, 2018
Jan 30, 2018
Jan 31, 2018
Feb 1, 2018
Feb 2, 2018
Feb 3, 2018
Feb 4, 2018
Feb 5, 2018
Feb 6, 2018
Feb 7, 2018
Feb 8, 2018
Feb 9, 2018
Feb 10, 2018
Feb 11, 2018
Feb 12, 2018
Feb 14, 2018
Feb 15, 2018
Feb 16, 2018
Feb 17, 2018
Feb 18, 2018
Feb 19, 2018
Feb 20, 2018
Feb 21, 2018
Feb 22, 2018
Feb 23, 2018
Feb 24, 2018
Feb 25, 2018
Feb 26, 2018
Feb 27, 2018
Mar 1, 2018
Mar 2, 2018
Mar 3, 2018
Mar 4, 2018
Mar 5, 2018
Mar 6, 2018
Mar 7, 2018
Mar 8, 2018
Mar 9, 2018
Mar 10, 2018
Mar 11, 2018
Mar 12, 2018
Mar 13, 2018
Mar 14, 2018
Mar 15, 2018
Mar 16, 2018
Mar 17, 2018
Mar 18, 2018
Mar 19, 2018
Mar 20, 2018
Mar 21, 2018
Mar 22, 2018
Mar 23, 2018
Mar 24, 2018
Mar 25, 2018
Mar 26, 2018
Mar 28, 2018
Mar 30, 2018
Mar 31, 2018
Apr 1, 2018
Apr 2, 2018
Apr 3, 2018
Apr 4, 2018
Apr 5, 2018
Apr 6, 2018
Apr 7, 2018
Apr 8, 2018
Apr 9, 2018
Apr 10, 2018
Apr 11, 2018
Apr 12, 2018
Apr 13, 2018
Apr 14, 2018
Apr 15, 2018
Apr 17, 2018
Apr 18, 2018
Apr 19, 2018
Apr 20, 2018
Apr 21, 2018
Apr 22, 2018
Apr 23, 2018
Apr 24, 2018
Apr 25, 2018
Apr 26, 2018
Apr 27, 2018
Apr 28, 2018
Apr 29, 2018
May 1, 2018
May 2, 2018
May 3, 2018
May 4, 2018
May 5, 2018
May 6, 2018
May 7, 2018
May 8, 2018
May 9, 2018
May 10, 2018
May 11, 2018
May 12, 2018
May 13, 2018
May 14, 2018
May 15, 2018
May 16, 2018
May 17, 2018
May 18, 2018
May 19, 2018
May 20, 2018
May 21, 2018
May 22, 2018
May 25, 2018
May 26, 2018
May 27, 2018
May 28, 2018
May 29, 2018
May 30, 2018
May 31, 2018
Jun 1, 2018
Jun 2, 2018
Jun 4, 2018
Jun 6, 2018
Jun 7, 2018
Jun 8, 2018
Jun 12, 2018
Jun 13, 2018
Jun 14, 2018
Jun 15, 2018
Jun 16, 2018
Jun 17, 2018
Jun 18, 2018
Jun 19, 2018
Jun 20, 2018
Jun 21, 2018
Jun 22, 2018
Jun 23, 2018
Jun 24, 2018
Jun 25, 2018
Jun 26, 2018
Jun 28, 2018
Jun 29, 2018
Jun 30, 2018
Jul 1, 2018
Jul 2, 2018
Jul 4, 2018
Jul 6, 2018
Jul 7, 2018
Jul 8, 2018
Jul 9, 2018
Jul 10, 2018
Jul 12, 2018
Jul 13, 2018
Jul 14, 2018
Jul 15, 2018
Jul 16, 2018
Jul 17, 2018
Jul 18, 2018
Jul 19, 2018
Jul 20, 2018
Jul 21, 2018
Jul 22, 2018
Jul 23, 2018
Jul 24, 2018
Jul 26, 2018
Jul 27, 2018
Jul 28, 2018
Jul 31, 2018
Aug 1, 2018
Aug 2, 2018
Aug 3, 2018
Aug 4, 2018
Aug 5, 2018
Aug 7, 2018
Aug 9, 2018
Aug 10, 2018
Aug 11, 2018
Aug 12, 2018
Aug 13, 2018
Aug 14, 2018
Aug 15, 2018
Aug 16, 2018
Aug 17, 2018
Aug 19, 2018
Aug 20, 2018
Aug 21, 2018
Aug 22, 2018
Aug 23, 2018
Aug 24, 2018
Aug 25, 2018
Aug 26, 2018
Aug 27, 2018
Aug 29, 2018
Aug 30, 2018
Aug 31, 2018
Sep 1, 2018
Sep 2, 2018
Sep 3, 2018
Sep 4, 2018
Sep 7, 2018
Sep 8, 2018
Sep 9, 2018
Sep 10, 2018
Sep 11, 2018
Sep 18, 2018
Sep 19, 2018
Sep 20, 2018
Sep 21, 2018
Sep 23, 2018
Sep 25, 2018
Sep 26, 2018
Sep 27, 2018
Sep 28, 2018
Sep 29, 2018
Sep 30, 2018
Oct 1, 2018
Oct 2, 2018
Oct 3, 2018
Oct 4, 2018
Oct 5, 2018
Oct 7, 2018
Oct 8, 2018
Oct 10, 2018
Oct 11, 2018
Oct 12, 2018
Oct 13, 2018
Oct 14, 2018
Oct 15, 2018
Oct 16, 2018
Oct 18, 2018
Oct 19, 2018
Oct 20, 2018
Oct 21, 2018
Oct 22, 2018
Oct 23, 2018
Oct 24, 2018
Oct 25, 2018
Oct 26, 2018
Oct 27, 2018
Oct 28, 2018
Oct 29, 2018
Oct 30, 2018
Oct 31, 2018
Nov 1, 2018
Nov 2, 2018
Nov 3, 2018
Nov 5, 2018
Nov 6, 2018
Nov 7, 2018
Nov 8, 2018
Nov 9, 2018
Nov 10, 2018
Nov 12, 2018
Nov 13, 2018
Nov 14, 2018
Nov 15, 2018
Nov 17, 2018
Nov 19, 2018
Nov 20, 2018
Nov 28, 2018
Nov 29, 2018
Nov 30, 2018
Dec 1, 2018
Dec 2, 2018
Dec 3, 2018
Dec 5, 2018
Dec 6, 2018
Dec 7, 2018
Dec 8, 2018
Dec 11, 2018
Dec 12, 2018
Dec 13, 2018
Dec 14, 2018
Dec 15, 2018
Dec 17, 2018
Dec 18, 2018
Dec 19, 2018
Dec 21, 2018
Dec 27, 2018
Dec 28, 2018
Dec 29, 2018
Dec 30, 2018
Dec 31, 2018
Jan 1, 2019
Jan 2, 2019
Jan 3, 2019
Jan 4, 2019
Jan 5, 2019
Jan 7, 2019
Jan 8, 2019
Jan 9, 2019
Jan 10, 2019
Jan 11, 2019
Jan 13, 2019
Jan 14, 2019
Jan 16, 2019
Jan 17, 2019
Jan 18, 2019
Jan 19, 2019
Jan 20, 2019
Jan 21, 2019
Jan 22, 2019
Jan 23, 2019
Jan 24, 2019
Jan 25, 2019
Jan 26, 2019
Jan 27, 2019
Jan 28, 2019
Jan 29, 2019
Jan 31, 2019
Feb 6, 2019
Feb 8, 2019
Feb 9, 2019
Feb 10, 2019
Feb 11, 2019
Feb 12, 2019
Feb 13, 2019
Feb 14, 2019
Feb 15, 2019
Feb 16, 2019
Feb 17, 2019
Feb 18, 2019
Feb 19, 2019
Feb 21, 2019
Feb 22, 2019
Feb 23, 2019
Feb 26, 2019
Feb 28, 2019
Mar 1, 2019
Mar 2, 2019
Mar 3, 2019
Mar 4, 2019
Mar 6, 2019
Mar 7, 2019
Mar 8, 2019
Mar 9, 2019
Mar 10, 2019
Mar 11, 2019
Mar 12, 2019
Mar 13, 2019
Mar 15, 2019
Mar 17, 2019
Mar 18, 2019
Mar 19, 2019
Mar 20, 2019
Mar 21, 2019
Mar 22, 2019
Mar 23, 2019
Mar 25, 2019
Mar 26, 2019
Mar 27, 2019
Mar 28, 2019
Mar 29, 2019
Mar 30, 2019
Mar 31, 2019
Apr 1, 2019
Apr 2, 2019
Apr 3, 2019
Apr 4, 2019
Apr 5, 2019
Apr 6, 2019
Apr 7, 2019
Apr 8, 2019
Apr 9, 2019
Apr 11, 2019
Apr 12, 2019
Apr 13, 2019
Apr 14, 2019
Apr 15, 2019
Apr 16, 2019
Apr 17, 2019
Apr 18, 2019
Apr 19, 2019
Apr 21, 2019
Apr 22, 2019
Apr 24, 2019
Apr 25, 2019
Apr 26, 2019
Apr 27, 2019
Apr 28, 2019
Apr 29, 2019
Apr 30, 2019
May 1, 2019
May 2, 2019
May 3, 2019
May 4, 2019
May 5, 2019
May 6, 2019
May 7, 2019
May 8, 2019
May 9, 2019
May 10, 2019
May 11, 2019
May 12, 2019
May 13, 2019
May 14, 2019
May 15, 2019
May 16, 2019
May 23, 2019
May 24, 2019
May 26, 2019
May 27, 2019
May 29, 2019
May 30, 2019
May 31, 2019
Jun 1, 2019
Jun 2, 2019
Jun 3, 2019
Jun 4, 2019
Jun 5, 2019
Jun 6, 2019
Jun 7, 2019
Jun 9, 2019
Jun 10, 2019
Jun 11, 2019
Jun 12, 2019
Jun 13, 2019
Jun 14, 2019
Jun 15, 2019
Jun 17, 2019
Jun 18, 2019
Jun 19, 2019
Jun 20, 2019
Jun 21, 2019
Jun 22, 2019
Jun 23, 2019
Jun 27, 2019
Jun 29, 2019
Jun 30, 2019
Jul 1, 2019
Jul 4, 2019
Jul 5, 2019
Jul 6, 2019
Jul 7, 2019
Jul 8, 2019
Jul 10, 2019
Jul 11, 2019
Jul 12, 2019
Jul 13, 2019
Jul 14, 2019
Jul 15, 2019
Jul 16, 2019
Jul 17, 2019
Jul 18, 2019
Jul 20, 2019
Jul 22, 2019
Jul 23, 2019
Jul 24, 2019
Jul 25, 2019
Jul 26, 2019
Jul 27, 2019
Jul 28, 2019
Jul 30, 2019
Jul 31, 2019
Aug 1, 2019
Aug 2, 2019
Aug 3, 2019
Aug 4, 2019
Aug 5, 2019
Aug 6, 2019
Aug 7, 2019
Aug 8, 2019
Aug 9, 2019
Aug 10, 2019
Aug 12, 2019
Aug 13, 2019
Aug 15, 2019
Aug 16, 2019
Aug 17, 2019
Aug 18, 2019
Aug 19, 2019
Aug 23, 2019
Aug 24, 2019
Aug 25, 2019
Aug 26, 2019
Aug 28, 2019
Aug 29, 2019
Aug 30, 2019
Sep 1, 2019
Sep 2, 2019
Sep 6, 2019
Sep 7, 2019
Sep 10, 2019
Sep 11, 2019
Sep 13, 2019
Sep 14, 2019
Sep 15, 2019
Sep 18, 2019
Sep 20, 2019
Sep 21, 2019
Sep 23, 2019
Sep 24, 2019
Sep 25, 2019
Sep 26, 2019
Oct 9, 2019
Oct 10, 2019
Oct 11, 2019
Oct 12, 2019
Oct 14, 2019
Oct 16, 2019
Oct 17, 2019
Oct 18, 2019
Oct 19, 2019
Oct 22, 2019
Oct 23, 2019
Oct 24, 2019
Oct 25, 2019
Oct 26, 2019
Oct 28, 2019
Oct 30, 2019
Oct 31, 2019
Nov 1, 2019
Nov 3, 2019
Nov 5, 2019
Nov 6, 2019
Nov 8, 2019
Nov 10, 2019
Nov 11, 2019
Nov 12, 2019
Nov 18, 2019
Nov 24, 2019
Nov 26, 2019
Dec 5, 2019
Dec 7, 2019
Dec 9, 2019
Dec 10, 2019
Dec 11, 2019
Dec 12, 2019
Dec 13, 2019
Dec 14, 2019
Dec 15, 2019
Dec 16, 2019
Dec 17, 2019
Dec 18, 2019
Dec 19, 2019
Jan 3, 2020
Jan 5, 2020
Jan 6, 2020
Jan 9, 2020
Jan 10, 2020
Jan 11, 2020
Jan 12, 2020
Jan 13, 2020
Jan 14, 2020
Jan 16, 2020
Jan 17, 2020
Jan 18, 2020
Jan 21, 2020
Jan 22, 2020
Jan 23, 2020
Jan 24, 2020
Jan 26, 2020
Jan 27, 2020
Feb 8, 2020
Feb 9, 2020
Feb 10, 2020
Feb 12, 2020
Feb 13, 2020
Feb 14, 2020
Feb 18, 2020
Feb 19, 2020
Feb 20, 2020
Feb 21, 2020
Feb 22, 2020
Feb 23, 2020
Feb 28, 2020
Feb 29, 2020
Mar 1, 2020
Mar 2, 2020
Mar 3, 2020
Mar 5, 2020
Mar 6, 2020
Mar 8, 2020
Mar 9, 2020
Mar 11, 2020
Mar 12, 2020
Mar 13, 2020
Mar 14, 2020
Mar 17, 2020
Mar 22, 2020
Mar 24, 2020
Mar 25, 2020
Mar 26, 2020
Mar 27, 2020
Mar 29, 2020
Mar 31, 2020
Archives